Page 3 - Promotional-Confectionery-19-20
P. 3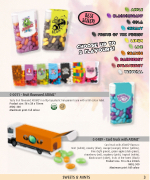 APPLE
BLACKCURRANT
COLA
CREAMY
FRUITS OF THE FOREST
         LEMON
LIME
ORANGE
RASPBERRY
STRAWBERRY
TROPICAL
         C-0011 - Fruit flavoured ATOMZ®
Tasty fruit flavoured ATOMZ® in a flip top plastic transparent case with a full colour label.
Product size: 58 x 38 x 15mm MOQ: 480
Maximum print: full colour
ALLERGEN
 C-0489 - Card truck with ATOMZ®
Card truck with ATOMZ ® flavours: mint (white), creamy (blue), orange (orange), lemon (yellow), lime (light green), green apple (dark green), strawberry (red), raspberry (pink), tropical (white), blackcurrant (violet), fruits of the forest (black) Product size: 70 x 26 x 20mm MOQ: 500 Maximum print: full colour
 SWEETS & MINTS 3
 BEST SELLER!
CHOOSE UP TO 2 FLAVOURS!