Page 69 - Promotional-Confectionery-19-20
P. 69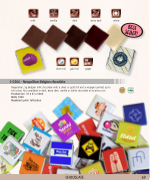 milk vanilla dark extra dark
silver foil gold foil paper
C-0206 - Neapolitan Belgian chocolate
Neapolitan, 5g Belgian milk chocolate with a silver or gold foil and a wrapper printed up to full colour. Also available in dark, extra dark, vanilla or white chocolate at an extra cost. Product size: 31 x 31 x 5mm
MOQ: 1000
Maximum print: full colour
white
          Veggie
 CHOCOLATE 69
 BEST SELLER!